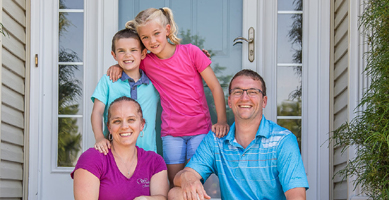 Waddington Jewelers opened February 1st, 2005. Since then the store has grown tremendously. Ben & Jen Waddington spend most of their time running the store, with the help of part time staff, Jodi Laubis & Sarah Heugel. Between these two and Ben & Jen's kids, Mackenzie (9) & Xavier (8), you will always be greeted by a friendly face here. Waddington Jewelers is very committed to Bowling Green, Wood County and to it's customers. They have received the "Small Business of the Year" award from the Chamber of Commerce and have won "Best of" multiple years in a row. We put ourselves in each customer's shoes and treat them like we would want to be treated.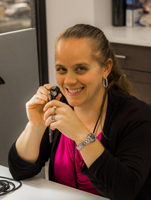 Jen Studied abroad for a year completing a gemology course at the Gemological Orientation & Development Society of Pune (India) in 1998. Upon returning she attended the Gemological Institute of America (GIA) in Carlsbad, California. She graduated as a Graduate Jeweler Gemologist in 2002. She is also certified in advanced stone setting, jewelry design, counter sketching, pearl & bead stringing, graduate diamonds, and graduate colored stones.

After graduation Jen moved back home to Akron, Ohio, setting stones for a manufacturer of finished jewelry. She then moved to Bowling Green and worked for a local jewelry store. During her two years of employment at the store she gained great experience that helped give her the confidence to open Waddington Jewelers after the former owner retired in December 2004.

Jen does all repairs in shop and can often be seen burning the midnight oil late into the night. She has built such a great reputation in the community that there is almost always 100+ jobs waiting in her bin.
Ben Waddington is a graduate of Bowling Green State University. He graduated with a BFA in Digital Art with an emphasis in 3-D animation. He currently designs most of the store's advertisements and manages the business and sales. Ben has obtained his AJP (Accredited Jewelry Professional) degree. He is very involved in the community. He currently sits on four boards including The Bowling Green Chamber of Commerce and St. Aloysius School board. As his kids say, he talks to people all day.